Pan-European Green Belt Conferences
10th Pan-European Green Belt Conference 2018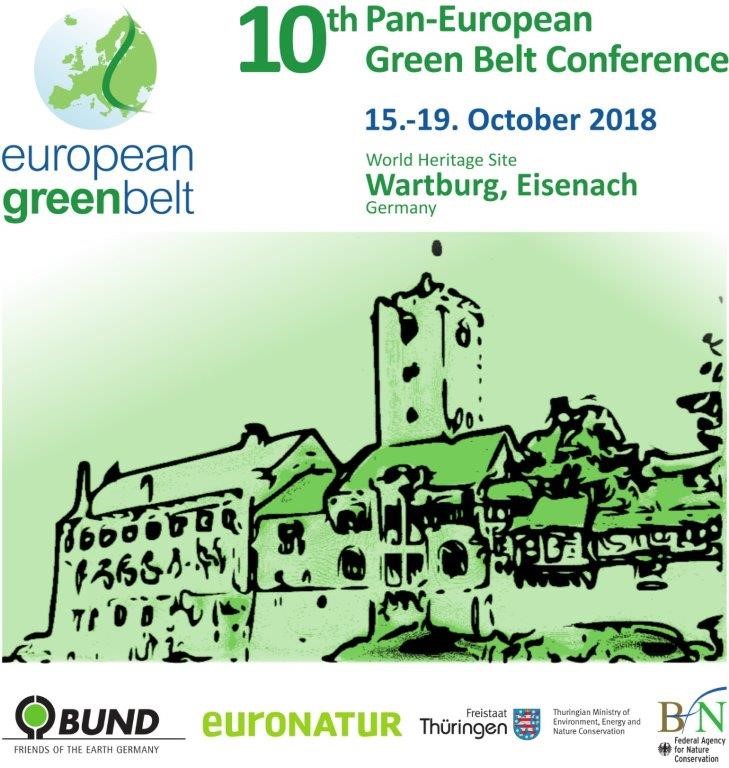 The 10th Pan-European Green Belt Conference 2018 was held from October 15 to October 19 at the World Heritage Site Wartburg in the city of Eisenach/Germany. The conference was jointly organised by BUND (Friends of the Earth Germany), EuroNatur, the Thuringian Ministry for the Environment, Energy and Nature Conservation (TMUEN) and the German Federal Agency for Nature Conservation (BfN).
More than 120 representatives from NGOs and GOs coming from 21 adjacent countries as well as Korea and Liechtenstein were present. The aim of the conference was to provide a platform to exchange experiences and knowledge, as well as developing further joint activities and partnerships. In addition, the bi-annual General Assembly of the European Green Belt Association e.V. was organized in the context of the Green Belt Conference.
A thematic focus of the conference was the presentation and discussion of the results of the BfN-funded project "The Green Belt as Part of the Green Infrastructure" implemented by BUND and EuroNatur. Furthermore, approaches for better protection and development of the Green Belt Europe from the different regions were presented and discussed in presentations and a poster session on best practice examples. In addition, six workshops offered the opportunity for thematically focused cooperation and networking. As a joint message, the participants of the conference adopted the "Eisenach Resolution on the European Green Belt".
Programme of the 10th Pan-European Green Belt Conference(pdf)
Opening and Welcome Speeches
Video message from Svenja Schulze, German Federal Environmental Minister
1st session: Update from the four regions of the European Green Belt(pdf)
2nd session: European Green Belt as model for EU-level Green Infrastructure
3rd session - panel discussion: The European Green Belt as Green Infrastructure: challenges, strategies and partnerships (pdf)
4th session: Instruments to secure and improve the functionality of the European Green Belt
5th session – poster session: Sharing best practice examples
6th session – parallel working groups: The European Green Belt – today, tomorrow and beyond
Press articles (in German)
Full conference report (pdf barrier-free)