A paradise for bird watchers, people and culture - Ulcinj Salina!
A new brochure of the 100 most common bird species to be seen in the unique area of Ulcinj Salina Nature Park (Montenegro) reveals the magnificent species diversity. At the same time, the area is culturally unique and worthwhile to be supported. See how the Center for Protection and Research of Birds (CZIP) brings people and nature together.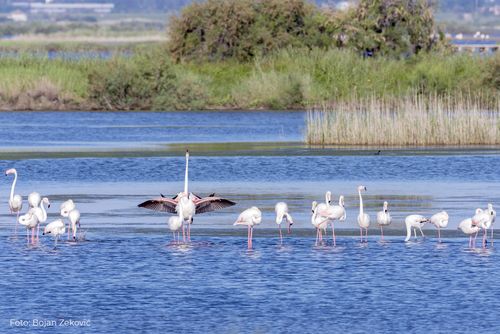 Located in the very south of Montenegro, Ulcinj Salina is one of the most important wetland areas in the Balkans. The significance of these salt pans for migratory birds is commonly compared with that of London Heathrow Airport for its air traffic. The Salina is indeed a hub for bird migration along the Adriatic Flyway. Thousands of wading and water birds rest there each year in the spring and autumn and refuel for the rest of their energy-sapping flight. Also, it is a breeding site of great importance. A newly established bird identification guide shows brings you a bit closer to this place on the European Green Belt (see link below).
Along with the bird identification guide, CZIP also implemented three exciting projects to foster Ulicinj Salina's development of ecotourism based on the natural and cultural heritage:
Tastes of Ulcinj: It focused on women empowerment and provided three amazing ladies with an adaptation of their existing accommodation capacities and kitchenware for bigger production of traditional sweets.
In the project Reborn by Adventures, a young couple was supported to create an outdoor tour connecting Salina to its stunning natural surroundings. The couple rebuilt and adjusted their traditional house in the village, bought eight mountain bikes, helmets and eight stand-up paddling boards with safety jackets.
The Salty Village project fostered the construction of a wooden deck as a summer kitchen and one wooden object for accommodation, as well as two glamping tents. The place is owned by a young artist. With the funding provided, he was also able to buy a professional camera and is now promoting Ulcinj Salina with great photos and videos out of which the Martin Schneider Jacoby Association created a promotion video for the 50th birthday of the World Wetlands Day (2nd February).
The bird identification guide and the three small-grant projects were part of a bigger project, supported by the MAVA foundation with a total amount of 33,275 Euro.
You can find the bird identification guide here.
See also the videos of the small grant projects: