A round move at this year's European Green Belt Days - Move4GreenBelt
The fall of the Berlin Wall at the end of 1989 paved the way for the European Green Belt, Europe's largest nature conservation project, which therefore celebrates its 30th birthday in 2019. In addition to an international event at Lake Neusiedl, the Austrian League for Nature Conservation has invited the public to get moving for the Green Belt in Austria during the European Green Belt Days from 18th -24th September this year.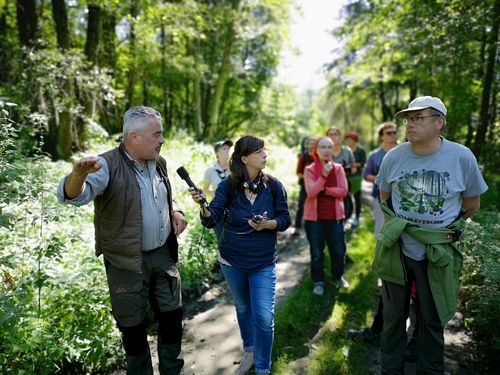 This round birthday of this unique nature conservation project was commemorated with hiking tours in the far north and south of Austria.
In the Upper Austrian "Mühlviertel" two guided hiking tours took place along the river Maltsch to Zettwing in the Czech Republic - a small village that had been razed to the ground during the Cold War. On the way, the participants learned a lot about the special natural area on both sides of the border as well as the painful occurrences at the times of the death zone. In the evening, after lectures and short films, the programme included a cosy final in Leopoldschlag. M4GB OÖ – Rückblick (in German)
In the south of Styria, the Austrian League for Nature Conservation invited for a hike in the Region of St. Anna am Aigen, accompanied by zoologists, botanists and people who know the region well. The guided tour led through particularly valuable areas in the south-eastern Styrian hill country - jewels of the Green Belt, some of which are owned by the League for Nature Conservation. The Slovenian side was presented by the director of the neighbouring nature park Goričko. M4GB Stmk – Rückblick (in German)