A strong move forward: The Illmitz Declaration
On the occasion of the festivities to mark the fall of the Iron Curtain and the birth of the European Green Belt 30 years ago, Austria set a strong political signal for the international nature conservation project. With the Illmitz Declaration the Austrian Federal Government and the "Green-Belt-Bundesländer" (the Federal States on the Green Belt) have jointly committed themselves to the European Green Belt.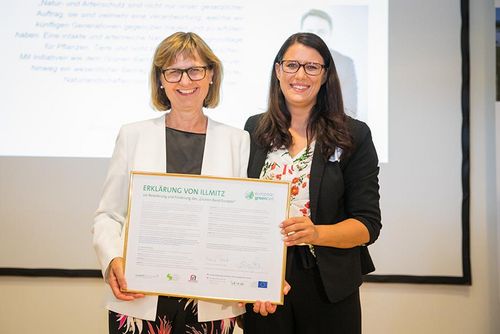 The signatories of the Ilmitz Declaration have declared "to do everything in their power to protect and further develop the Green Belt in Austria" and want to promote the Green Belt Initiative, further develop the Green Belt as a green infrastructure across Europe and better network the protected areas within it. In the declaration, they also committed themselves to taking into account the special protection needs of the Green Belt in infrastructure projects and to supporting activities for the conservation, restoration and sustainable development of the Green Belt.
"The fact that the Federal Government and the Länder stand together behind the Green Belt makes us confident for the coming work as National Focal Point and advocate of nature. With the appropriate political will at all levels, we can advance the success story of the Green Belt in Austria and in Europe," said Johannes Gepp from the Austrian League for Nature Conservation, which organised the event together with the Federal Environment Agency.