A wonderful meeting place for people to feel nature: Julian Prealps Nature Park (Italy) and Triglav National Park (Slovenia)
Journalists were invited to experience this beautiful and historically important cross-boundary area on the European Green Belt and cycled far with their bikes.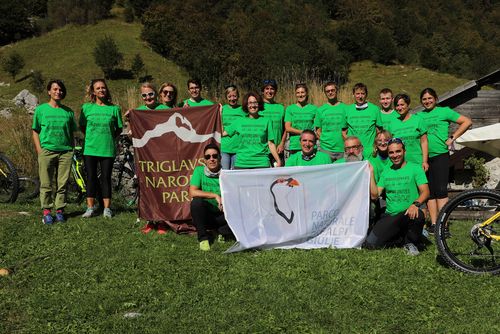 A bike excursion for journalists of both countries was organized along the new crossborder bike path between the Julian Prealps Nature Park and Triglav National Park in September 2020. And as a follow-up of last year's European Green Belt Days, the Julian Prealps Nature Park, coordinator of a partnership composed of the Triglav National Park (Slovenia), Autonomous Region Friuli Venezia Giulia (Italy National Focal Point) and Associazione Rete Italiana EGB (NGO) will soon start its photo competition and exhibition.
The photo competition focuses and celebrates natural and cultural values of the EGB in the impressive landscapes of the crossborder Julian Alps area (see also news article of 10/13/20). It aims to involve both amateur and professional photographers which are invited to submit a 3-picture portfolio each, with a descriptive text. The portfolio has to tell "the story of the EGB" along the Italian-Slovenian crossborder, focusing on different themes: nature, socio-cultural, history. Photographers from the crossborder area are invited to participate. Prizes are provided for the winners, in the form of some leisure experience in the area of the Parks involved. The photo competition deadline was postponed to the 30th April 2021 because of Covid restrictions.
A photo exhibition then displays ten selected portfolios and is hosted by the Julian Prealps Regional Park and the Triglav National Park. We keep you updated!
The events are organized by the crossborder network of organizations. Special remark is given to the cooperation between the two parks, Julian Prealps Nature Park from the Italian side and Triglav National Park from the Slovenian side, which established a crossborder cooperation since years. This cooperation recently brought to the designation of the UNESCO Biosphere Reserve Julian Alps, which connects the two parks and constitutes an essential Alpine corridor, notably for large carnivores as well as.
See also the following links:
Video "Nature Without Borders": https://www.youtube.com/watch?v=ZaL6puS4EbY
https://www.parcoprealpigiulie.it/public/file/2020/Concorso_FOTO/04_Regolamento_concorso_foto_EGB_ENG.pdf
https://www.parcoprealpigiulie.it/view.aspx?id=ELE0007066&L=it