Austria celebrates the 30th anniversary of the European Green Belt
In August, more than 100 friends of the European Green Belt met for a festive event in the Neusiedlersee – Seewinkel Fertö-Hanság National Park to celebrate the 30th anniversary of the European Green Belt Initiative.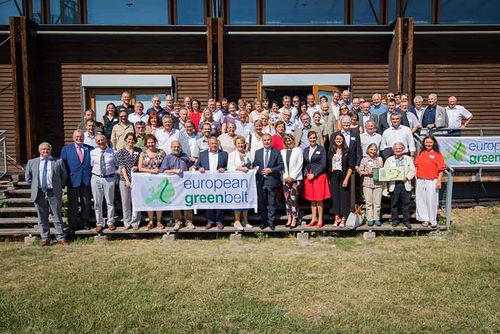 Upon the invitation of the Austrian League for Nature Conservation and the Environment Agency Austria, politicians and nature conservation experts from Austria, Germany, Hungary, the Czech Republic, Slovenia and Slovakia met in Illmitz to celebrate the largest nature conservation initiative in Europe, the "European Green Belt Initiative", and to discuss future perspectives.
Federal Minister for Sustainability and Tourism Maria Patek and Hungarian Agriculture Minister István Nagy, as well as President of the Burgenland Landtag Verena Dunst stressed the importance and uniqueness of the network of biotopes along the former Iron Curtain. Nature conservationists from Austria and its neighbouring countries discussed the success and future challenges of the pan-European project.
The event took place at a special location and on a special date. Here, on the Burgenland-Hungarian border, the Iron Curtain got its first cracks exactly 30 years ago: on 19 August 1989 at the Pan-European Picnic, a peace demonstration near Sopron. With the consent of the Hungarian and Austrian authorities, a border gate was symbolically opened for three hours. Between 600 and 700 citizens of the former GDR took advantage of this brief opening of the Iron Curtain to flee to the West.