Balkan lynx – exciting news from the field
What a thrilling moment! Our friends from the Macedonian Ecological Society (MES) share this photo of Lisa, a radio-collared Balkan lynx in Mavrovo National Park.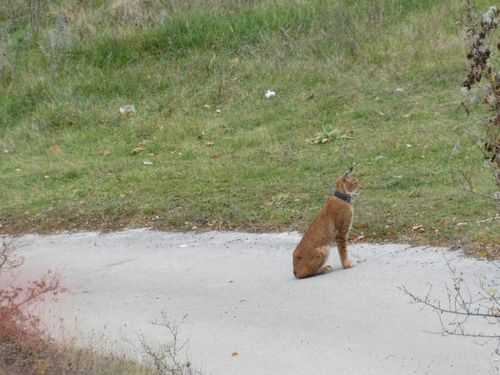 "These days we received wonderful pictures from Lisa, a healthy individual, around 7 years of age," states Dime Melovski from the Macedonian Ecological Society (MES). Pictures of Lisa were taken by a local inhabitant of Mavrovo village. Lisa is the third radio-collared female lynx and the ninth different lynx individual captured within the research activities that MES has been systematically implementing since 2010.
Radio-telemetry and GPS-tracking help the organisation to monitor the animal, aiming to aquire better knowledge about the ecology and biology of the species. MES's long-term field research suggests that the Balkan hosts about 40 adult Balkan lynx individuals, which, according to the International Union for Conservation of Nature (IUCN), makes it a critically endangered animal.
Such success is a result of the fruitful cooperation with Mavrovo National Park and the help of associates and volunteers during the lynx monitoring activities.