Big audience for a little butterfly: the European Green Belt connects Aurinia-experts from four countries
The day was saved when the group saw the first orange-golden shimmering butterfly: The Marsh Fritillary (Euphydryas aurinia) is a Europe wide endangered species living in nature related, late mowed meadows or extensively grazed pastures. It is strongly depending on its caterpillar's only food plant, the devil's-bit (Succisia pratensis). The European Green Belt is one of the places where this rare species found a last retreat.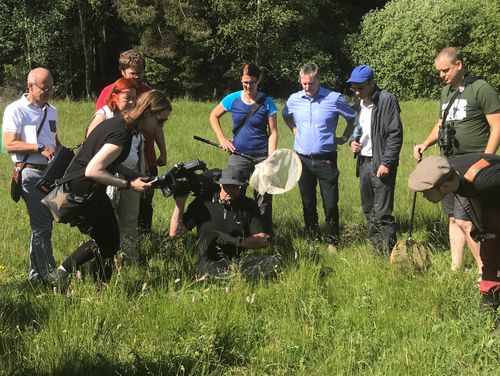 17-20 June 2019: Experts from national park Őrseg in Hungary and nature park Goričko in Slovenia visited the Green Belt Germany-Czech Republic. Here, in the Czech-Bavarian-Saxon border triangle a cross-border Aurinia conservation project is running since 2015. NGO and GO-Partners work together: the nature conservation authority from Vogtlandkreis (Saxony), BUND local group in Hof (Bavaria), the Czech NGO Ametyst as well as the Czech Agency for Nature Conservation (AOPK).
Sharing experiences and knowledge was the main topic of the four-days meeting. Different management approaches where visited and the possibilities to better connect habitats of Aurinia butterflies across borders were vividly discussed among the experts. Because this topic is also of high importance for the Aurinia population occurring along the Green Belt Hungary-Slovenia in the neighboring parks Őrseg and Gorićko. The meeting showed again: The Green Belt is connecting people throughout Europe, fostering exchange and transferring knowledge. A return visit is planned for next year.
The exchange was organized by BUND Department Green Belt and Ametyst within the framework of the Interreg project "DaRe to Connect" (June 2018-May 2021, Danube Transnational Programme), implemented by partners from ten Green Belt countries: http://www.interreg-danube.eu/approved-projects/d2c