Another year of successful cooperation for nature and people in Belasitsa mountains, Bulgaria
Together with more than 200 people the Bulgarian Biodiversity Foundation (BBF) colourfully celebrated this year's European Green Belt Days in Belasitsa Nature Park, Bulgaria and Lake Kerkini in Greece, in cooperation with partners from North Macedonia.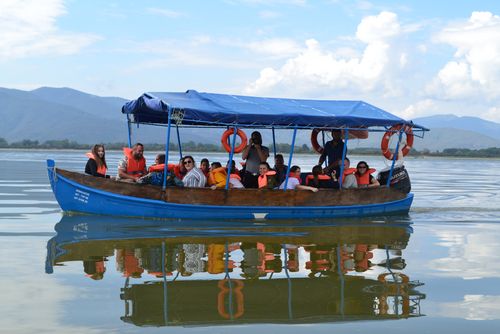 The village of Gabrene lies at the most south-western corner of Bulgaria, at the foot of 1880 m high Tumba peak of Belasitsa Mountain, where the borders of Bulgaria, Greece and North Macedonia meet. Thirty years ago, barbed wire fences ran through here - the region was heavily guarded against trespassers and access for outsiders and even locals were subject to a special permission. Here, on 24 September, a guided hike started from the center of Gabrene to places close to the border. It is also here where the remainings of the Iron Curtain can still be seen. Guests were invited to visit the Historic ethnographic collection housed in the Community Center of the village. The collection contains documents and interesting items like former border patrol uniforms, traditional folk wear, fabrics, home furnishing, weaving loom, etc.
On 25 September around 40 students between 10 to 16 years of age with interest in nature and biodiversity explored for the first time the Greek part of Belasitsa Mountain, the Lake Kerkini National Park, accompanied by their teachers and representatives of BBF, Belasitsa NP Directorate and Planetum Association. Besides an exhibition, a birdwatching boat trip included the spotting of pink flamingos strutting through the shallow waters and a flock of Dalmatian- and Great White Pelicans.
After lunch it is time for a lecture presented by BBF: What does the Iron Curtain mean? How did the dead-strip turn into a lifeline? What is the European Green Belt Initiative? Why is this environmental corridor endangered and what would be the profits for entire Belasitsa region if its nature is intact? The lecture was followed by a quiz and the students were happy about small presents to remind them of the living treasures the Green Belt.