Combining culture and nature protection along the Green Belt
What have beans and the Green Belt in common? In North Macedonia, the Bean's Day is celebrated each year. And this year has been special, because of the 10th anniversary of the Beans Day on 21st of September in Tearce, North Macedonia. As part of the country's culture, North Macedonia celebrated this special event during this year's European Green Belt Days.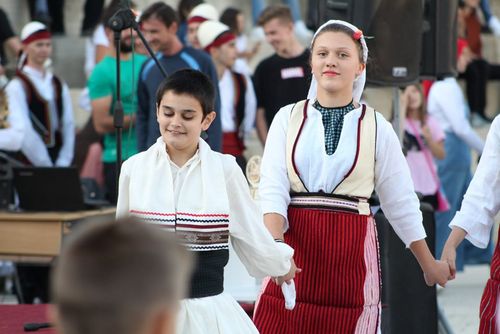 The municipality of Tearce near the city of Tetovo is located at the beautiful pearl Shar Mountain along the Balkan Green Belt, bordering the area between North Macedonia and Kosovo. It is a melting pot of different cultures and traditions from the Balkans.
During the celebration, beans were cooked in the traditional way of the Shar area and over 500 people came to get a taste of it. In addition, the cultural diversity was enjoyed through diverse dance performances to traditional music. During brilliant sunshine students from seven local schools presented their work on the topic of "Living Rivers along the Balkan Green Belt" next to a photo exhibition. Not only the beauty and values, but also the threats to living rivers were presented in many different ways during the event. One highlight was the screening of the Patagonia "Blue Heart"-movie.
The event was jointly organized by the Center for Environment and Development (CED), the Macedonian Ecological Society (MES) and EuroNatur. The event was financially supported by SWG RRD (Regional Rural Development Standing Working Group in South Eastern Europe) and GIZ (Deutsche Gesellschaft für Internationale Zusammenarbeit) with financial means of the German Federal Ministry for Economic Cooperation and Development (BMZ).