Cross-linking nature and people along the Green Belt Germany
Aim of the BUND (Friends of the Earth Germany) project "Cross-linking Green Belt" (10/2019-09/2025) is to connect the Green Belt with significant state- and nationwide as well as European ecological axes. Starting from the Green Belt as an ecological backbone, "ribs" will serve as surrounding landscapes. The question is: How can we work together with farmers, land care associations, municipalities and nature reserve administrations to develop landscape elements for an ecological network and preserve them permanently?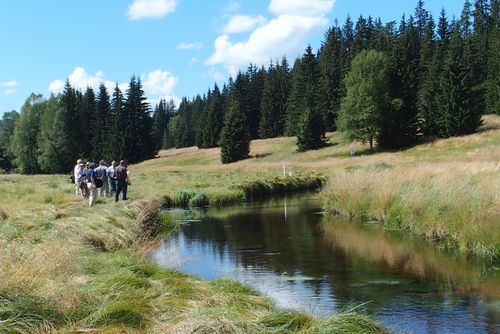 Measures and activities will be implemented in five so-called "linking-up-areas" ("Vernetzungsgebiete"): In Schleswig-Holstein (Delvenau-Niederung), Saxony-Anhalt (Landgraben-Dumme-Niederung), Thuringia (Thüringer Schiefergebirge), Bavaria (Rhön-Grabfeld) and at the border between Bavaria and Czech Republic (Inner Bavarian Forest). All in all, around 200 hectares are foreseen to develop ecological networks. New habitats shall originate, especially for insects. Valuable structural elements such as ponds, stone bars or hedgerows will be developed. Where necessary and possible, significant areas will be purchased. Furthermore, acceptance and awareness of ecological networks and species protection will be increased by implementing numerous offers in which people can actively participate and experience nature.
The project is funded by the German Federal Agency for Nature Conservation (BfN) with funds from the German Federal Ministry for the Environment, Nature Conservation and Nuclear Safety (BMU) within the framework of the German Federal Programme on Biological Diversity.
Contact: BUND Department Green Belt, greenbelt(at)bund-naturschutz.de