European Parliament Member delighted to see success in transnational cooperation for the protection of mires and wetlands
Deep in the European Green Belt between Germany and Czech Republic the BUND Department Green Belt introduced Jutta Paulus to mire and wetland restoration projects, and the close cooperation of BUND with the Šumava National Park.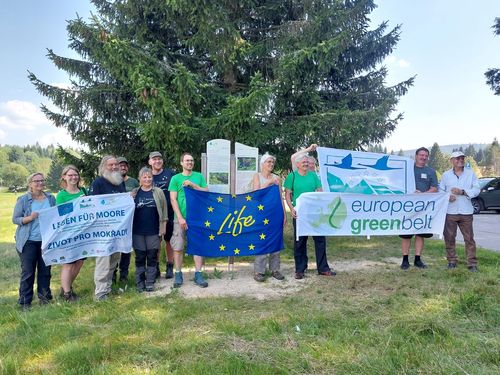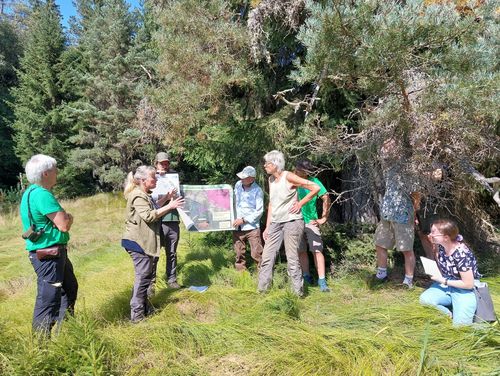 Jutta Paulus, member of the European Parliament and co-initiator of the ongoing pilot project BESTbelt, visited our Pan-European ecological network and natural heritage with its rich mires and wetlands. After the EU Commission just recently passed the EU Restoration Law, she wants to ensure that these important habitats will not be ignored but included in the law.
Amid abandonment of extensively used wetlands in the Inner Bavarian Forest, sites transformed into wet fallows are unfortunately not suitable for the natural set of species like the Whinchat or the Common Adder anymore. To fight against this negative trend, the BUND project "Cross-linking Green Belt" is implementing various restoration measures to connect stepping stone habitats, restore wet meadows and give the Green Belt crucial ecological backbone to the surrounding landscapes.
Moreover, the project LIFE for MIRES was established together with Czech partners of the Šumava National Park to strengthen cross-border cooperation in the area. It will allow the exchange of restoration methods and the development of transboundary mires and wetlands. Protected species like the Black Grouse and the Northern Birch Mouse will benefit from restoration efforts. The public will also get to know and enjoy this project from bi-lingual information panels at the project sites. To further develop and implement innovative restoration measures and foster transnational cooperations, the BUND also initiated the Green Belt Interreg-Project ReCo.
Projects funded by the European Union like BESTbelt, LIFE for MIRES and ReCo help to establish long-lasting transnational cooperations which are critical to protect transboundary mire and wetland habitats along the European Green Belt.
Contact
BUND Department Green Belt, greenbelt(at)bund-naturschutz.de
TV broadcast in German: link