Exemplary nature conservation at the Balkan Green Belt
"Green and vital" is the motto of the community of Peja in Western Kosovo * (in accordance with UNSCR 1244 and opinion of ICJ). And that's not hot air at all. Peja has recently been decorated as "Model municipality of the European Green Belt".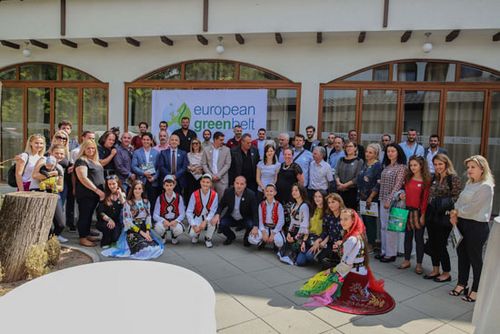 From all over Kosovo, people visit Peja to experience unspoiled nature, and the community is very active to preserve it like it is. For example, the mayor of Peja is unwaveringly refusing for many years to approve the construction of five hydropower plants in the Rugova Canyon right in Bjeshkët e Nemuna National Park. The community opposes plans by Carinthian power supply company KELAG and its Kosovar subsidiary to block the canyon with hydropower dams, and perseveringly resists national and international pressure by the government of Kosovo and the Austrian embassy.
In his acceptance speech, mayor Gazmend Muhaxheri confirmed that the community will "stay loyal to the idea that hydropower plants must not be built in Bjeshkët e Nemuna National Park. Kosovo has alternative resources to produce energy. We cannot accept the destruction of what nature created over millions of years. Of course we will continue to keep Peja 'green and vital'!" EuroNatur project manager Sandra Wigger, who presented the certificate to Gazmend Muhaxheri on behalf of the European Green Belt Association, added: "The award 'Model municipality of the European Green Belt' will support Peja in preserving the natural treasures of Bjeshkët e Nemuna National Park."
The ceremony, which was part of this year's "European Green Belt Days", was attended by several representatives from Peja. They all want to help develop their community regardful of nature. Government representatives of adjoining Montenegro and Albania took the chance to discuss nature conservation issues with their neighbours at the Green Belt.