Fostering Cooperation and Sharing Knowledge - Management Conference "National Nature Heritage Green Belt Germany"
From 2-4 April 2019 the 4th National Conference for the Management of the Green Belt Germany took place in the historical venue Water Castle Mitwitz – place of birth of the Green Belt-Idea in Germany. Under the slogan "30 years boundless love for nature" the 40 participants also celebrated the 30th anniversary of the Green Belt Germany and the breakdown of the Iron Curtain. The conference supported exchange and cooperation of the stakeholders including partners from nature conservation, environmental and historical education as well as from the nature tourism sector.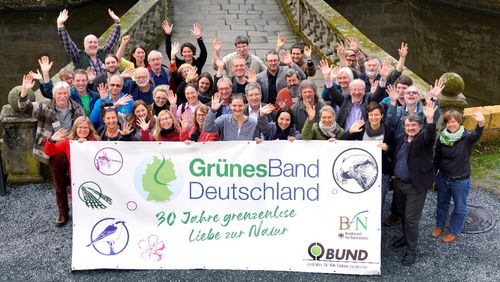 Main purpose of the conference was to inform about the status of the implementation of the National Nature Heritage in the Green Belt (areas of high nature conservation value formerly owned by the German government). These areas were transferred to the German "Länder" for nature conservation purpose. Large parts of the Green Belt Germany are today owned by the states Saxony, Thuringia, Saxony-Anhalt, Lower Saxony, Brandenburg and Mecklenburg-Western Pomerania, their respective nature conservation foundations or large scale protected area administrations. In order to maintain and develop a continuous ecological network, all relevant actors from GO- and NGO-level met to exchange and initiate further activities – with focus on closing the still existing 170 kilometers of gaps in the 1393 kilometers long ecological network.
The conference was financed by the German Federal Agency for Nature Conservation (BfN) with funds from the Federal Ministry for the Environment, Nature Conservation and Nuclear Safety (BMU) and organized by BUND Department Green Belt.