Green-Belt-Camps 2023: working together for nature!
The commitment of volunteers is decisive for the protection of the European Green Belt on many occasions. Therefore, the Austrian League for Nature Conservation (Naturschutzbund Österreich) invites nature enthusiasts to the Green Belt Camps again this year. Starting on 9 September for a fortnight, participants can get actively involved in the conservation of biodiversity.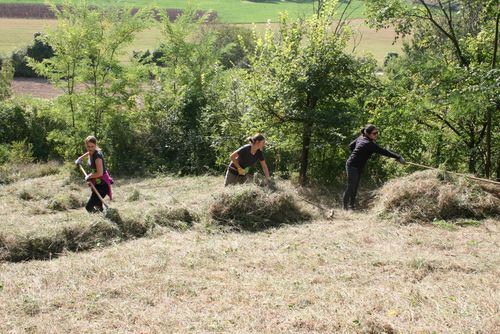 The "European Green Belt" is considered the longest green network in the world. Where the border once separated Eastern and Western Europe, today a retreat for flora and fauna stretches from the North of Europe to the South. The League for Nature Conservation is national focal point and advocate for the European Green Belt in Austria.
In many places, the European Green Belt in Austria is characterised by an extensively used cultivated landscape, which, however, has to be maintained regularly, often by hand. This requires the energy of volunteers: The League for Nature Conservation in Lower Austria therefore invites people interested in nature to lend a hand for rare species in summer. Through their support, participants make an irreplaceable contribution to the protection and preservation of these diverse biotopes along the Austrian Green Belt.
From 10 to 13 September in the Central Weinviertel and from 13 to 23 September in the North-Eastern Weinviertel (Lower Austria)
In two different camps at the border between Lower Austria and the Czech Republic and Slovakia, nature lovers have the opportunity to actively contribute to the conservation of biodiversity. Together, steep meadows are mown, and dry, rocky meadows are cleared of bushes - an important measure for the protection of rare species in this area. At the same time, there is also space for recreation and getting to know the region, as there are plenty of free days in between. This offers the opportunity to exchange ideas with other participants and to explore the enchanting nature of this region. Interested people are also welcome to support on a daily basis!
More information and registration for the camp in the Central Weinviertel can be found here, and for the camp in the North-Eastern Weinviertel here.
Contact:
Margit Gross, Lower Austrian League for Nature Conservation
Email: noe@naturschutzbund.at
Tel.: +43 1 402 93 94