How nature lovers can get the most out of their visits in the Balkan Alps
The untouched nature, beauty, and inaccessibility of the Prokletije Mountains in the southernmost of the Dinaric Alps - one of the pearls of the European Green Belt - are main reasons why this place has become a favourite destination for an increasing number of tourists, especially mountaineers and alpinists. To improve the service quality to tourists, a project has just been launched in Montenegro.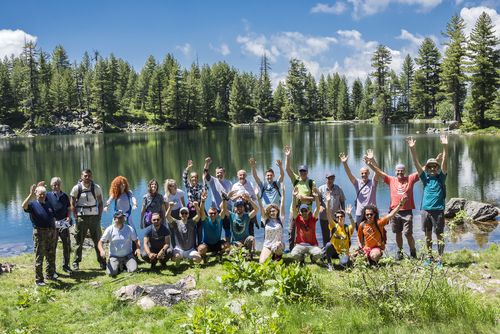 Within the project "Eco and Outdoor Tourism Actions of the Balkan Alps" three training sessions on biodiversity were organised for mountain guides. Main purpose was to familiarize participants with forest species, with special emphasis on large carnivores like brown bears and wolves. But also, guides were introduced to bird species and important aspects of birdwatching as one of the most popular activities of tourists in that area.
The training was also an opportunity for the local mountain guides to recognize the potentials to create different tourism offerings and attract a new target audience of tourists. Nature lovers on their hiking tours often find traces of wildlife, and these events were aimed at teaching participants to recognize them, but also to learn more about the methodology of tracking carnivores and collecting genetic material.
For further reference please contact Ksenija Medenica, Center for Conservation and Research of Birds (CZIP): ksenija.medenica@czip.me or visit www.czip.me