Local communities take the lead of sustainable development in the Korab – Koritnik Nature Park, Albania
The General Assembly of the Local Action Group Korab – Koritnik, organized by PPNEA this spring, brought not only people together fighting for a sustainable regional development, but also created lively discussions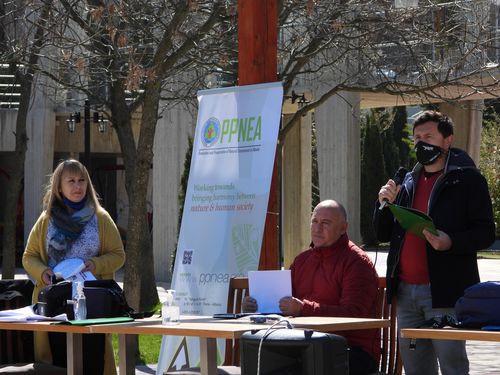 More than 80 members from different areas of Kukës and Dibër accepted PPNEA's invitation to join the decision-making process about the future of LAG Korab - Koritnik. During the Assembly , held on 27 March 2021, members voted the Board of Directors, which will lead the formalization process of the initiative.
Additionally, through presentations held by professionals and facilitators, the participants were re-introduced to the #LEADER approach as well as the funding opportunities coming from the #IPARD programme. These presentations were followed by active discussions, where the facilitators answered each risen question from the different interest groups.
The Local Action Group Korab-Koritnik aims to boost sustainable development in the Korab-Koritnik Nature Park, while promoting the high biodiversity values of area and its potential for being a hotspot for sustainable tourism in Albania and beyond.
The organization of LAG Korab – Koritnik General Assembly was supported by the Open Regional Fund for the Implementation of Biodiversity Agreements – GIZ ORF BDU, through the project "Support to the management of protected areas in border region of Albania, Kosovo, North Macedonia in monitoring of endangered species".
Contact details:
Olsion Lama, PPNEA, o.lama(at)ppnea.org
LAG Korab-Koritnik Facebook Page