Long-term project successfully completed - many gaps of the Green Belt Germany closed
After eight years, the project "Lückenschluss Grünes Band" (Closing Gaps in the Green Belt) came to its end in 2020 - with an immense triumph for nature.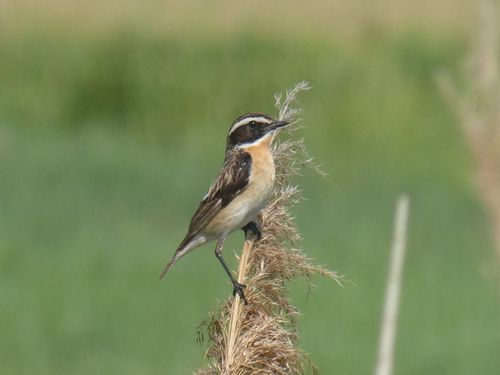 On the occasion of its 31 birthday in December, BUND (FoE Germany) presented the results of the 5 million euro project: Primarily by acquiring agricultural land and implementing nature conservation measures the connectivity of the ecological network could be sustainably increased.
Due to buying or exchanging areas, the Green Belt could be secured and expanded on 310 ha. In the model region "Altmark" in the federal state of Saxony-Anhalt all ecological gaps within a corridor of 17 km could be closed. The success factor of this is mainly the mutual trust between agriculture stakeholders and nature conservationists, which was developed over years.
The famous winners are ornate bluets (coenagrion ornatum) and whinchats (Saxicola rubetra). Whilst the populated space by dragonflies tripled within three years, the rare bird also tripled their count of pairs to 65 - which makes the Green Belt Germany an important refuge for these and many other endangered species.
The project included intensive public relations and the creation of a brochure in collaboration with border land museums at the former Iron Curtain - all to bring nature, culture and history one step closer to all citizens.

The project was financed by the German Federal Agency for Nature Conservation (BfN) with funds from the Federal Ministry for the Environment, Nature Conservation and Nuclear Safety (BMU).