Model Municipality Award at the European Green Belt: Conservation efforts awarded in Osogovo mountains, North Macedonia
For its outstanding efforts to preserve the naturally and culturally rich region of Osogovo mountains the Municipality of Kochani was officially awarded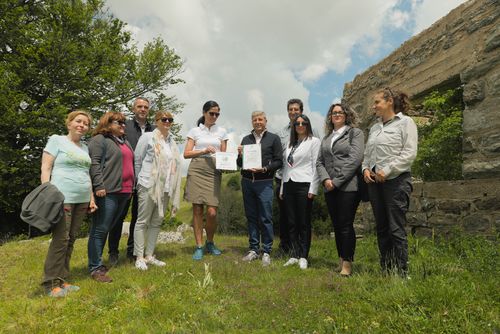 For its ambitious efforts to foster the development of a protected area in the Osogovo Mountains, the municipality of Kochani was awarded by the European Green Belt Association (EGBA) on 17 June 2021. In the beautiful area of Ponikva (Osogovo Mountains), the event was joined by diverse representatives: The German Ambassador, who handed over the award, and representatives from the municipality of Kochani, Ministry of Environment and Physical Planning, Public Enterpise National Forests, Center for development of the East Planning Region, Farmahem. The event was organized by the Macedonian Ecological Society.
Since 2007, the municipality of Kochani has been actively involved in the creation and designation of protected areas (PAs) in the Osogovo Mountains. Its mayor, Nikolcho Ilijev, is the leader of a lobby group, which has been fostering the proclamation of Osogovo Mountains to become a protected area. This year, the region of Osogovo Mountains was finally designated as a protected area – a great success! Not only on regional level, but also on transboundary level, this achievement contributes to the sustainable development of the whole eastern part of the country. Already in 2019, the EGBA decided to award the municipality of Kochani, yet due to the pandemic, the awarding event had to be postponed.
Municipalities are of special importance for the practical implementation of activities on the ground. The European Green Belt Association awards model municipalities as "Model municipality of the European Green Belt" every year. It is assigned to municipalities with outstanding commitment for the European Green Belt (see here the criteria for selection).
Contact: Macedonian Ecological Society: http://mes.org.mk/en/