New high-trunk orchards for scops owl in Goričko, Slovenia
Until the late 1990s, Goričko Nature park was a blank slate in Slovenian ornithology. The discovery of a large breeding population of the scops owl, estimated at 210–250 nesting pairs in 1997, was a remarkable surprise at that time. Today, breeding conditions need to be improved.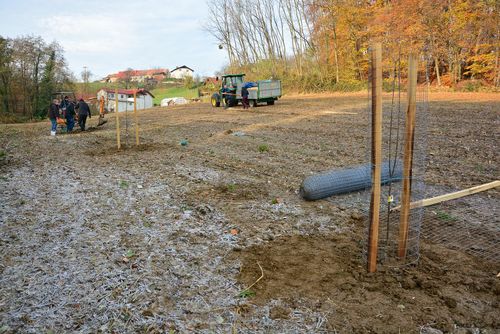 The species' population in Goričko is at its northern extent in Central Europe and it is the second largest in Slovenia. Ecological study of the Scops owl diet and foraging habitats in Goričko showed that the majority of its prey such as the great green bush-cricket and mole crickets are caught in hedges, meadows and orchards, but its foraging success also depends on the availability of hunting perches, as the scops owl hunts from trees, shrubs or different poles.
To improve breeding conditions for the scops owl, 950 fruit trees were rejuvenated by pruning and the European mistletoe was removed. Furthermore, 20 ha of high-trunk orchards are being currently planted as part of the Gorička krajina project. The trees belong to old varieties of apples such as Gravenstein, Cox's Orange Pippin, Ananas reinette and Belle de Boskoop.
The high-trunk orchards are being mostly planted as new orchards, but in some extent also as "gapping up" when trees are being planted within already existing old high-trunk orchards. All trees are planted with a spacing between lines of 10 meters and are fenced for protection against roe and red deer. Within the Gorička krajina project, 1200 high-trunk trees will be planted until spring of 2021.
Please visit also www.park-goricko.org