The great guardians of the imperial eagle
Faced with numerous threats and being at the very edge of extinction the last breeding pair of imperial eagles in Serbia found their last resort at the Special Nature Reserve (SNP) "Pastures of the Great Bustard" in Northern Banat region of Serbia. All with help of committed conservationists.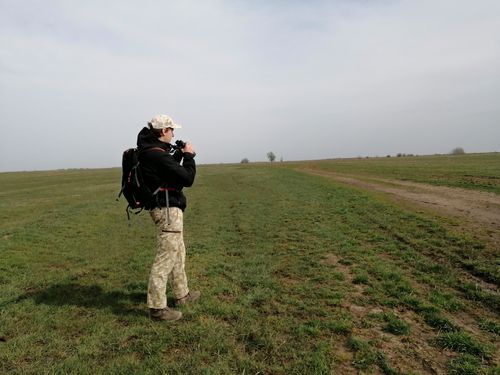 Located in the great plains of Vojvodina Province landscape the SNP "Pastures of the Great Bustard" consists of the great pastures surrounded with agricultural land and only few small wooded areas. These type of habitat suits imperial eagles. But also make them very vulnerable to human activity and disturbance.
Serbian ornithologists made some serious efforts in the previous years to save the imperial eagles from a complete loss of population. One action that showed to be most efficient was the guarding of the nest during the breeding period of the year with the help of volunteers. Their main task was to react at the first sign of any kind of threat, to help prevent disturbances of the birds in the circle of 1 km around the nest, to speak with the local farmers, raise their awareness and to monitor the behavior of the birds.
With the help of volunteers, organized guarding of nests not only helped to save the remaining breeding pair, but also helped the Serbian population to expand from 1 to 3 breeding pairs and all nesting sites in the SNP "Pastures of the Great Bustard". Also, a great success could be observed: Since the beginning of the guardian programme, the adult birds successfully bred 8 young individuals in total.