Traditional shepherding in the Sharr mountains – a booklet takes you to such a beautiful place
In 2020, EuroNatur and partners produced a booklet about traditional shepherding in the beautiful mountain landscape of Sharr/ Korab-Koritnik, situated in the border area between Albania, Kosovo and North Macedonia. See what it has to offer!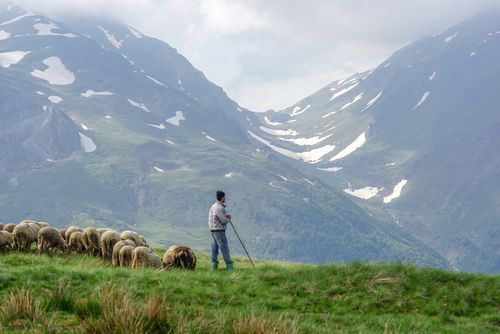 By taking you on a journey through pictures, facts and stories of local people, the booklet aims to highlight seasonal and migratory shepherding as a practice which harbors ecological as well as cultural value. By visiting the shepherds and sitting down with them, we were able to receive invaluable information concerning their experiences with this centuries-old practice. The booklet contains information about the area's biodiversity, the shepherd's livelihood, the traditional products and breeds in these regions, events and festivals, as well as rural tourism related to extensive shepherding.
The booklet was prepared in the frame a joint project of EuroNatur, MES, CED, PPNEA and FINCH within the programme Open Regional Funds for South-East Europa – Implementation of Biodiversity Agreements and financed by GIZ (Gesellschaft für internationale Zusammenarbeit) with financial means of the German Federal Ministry for Economic Cooperation and Development (BMZ).
You can view the booklet here.