Transhumance in Sakar – Moving herds in a Pearl of the Balkan Green Belt
Sakar Mountain is one of the Pearls in the Balkan Green Belt, located in the border area of Bulgaria with Turkey and Greece. The area encompasses one of the largest overlapping Natura 2000 sites in Bulgaria. Here, the NGO Green Balkans have traditionally worked for over 15 years to protect rare species of birds of prey and their habitats. How domestic animals help to conserve these species can now be observed with the concept of transhumance.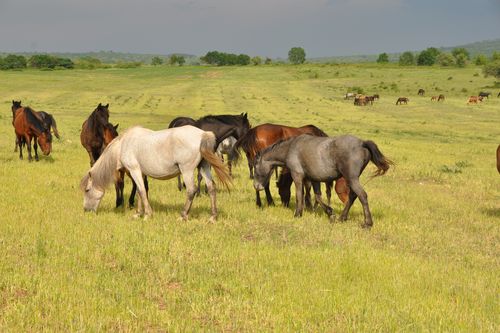 Green Balkans have long focused their work on the conservation of endangered species such as the imperial eagle and lesser kestrel. Their habitats are being protected through the management of pastures and extensive grazing of the autochthonous Bulgarian breed - Karakachan horses. Horses are bred free range year-round by electric fences, thereby maintaining a low height of the grass in pastures. This provides optimal hunting conditions not only for the above mentioned two target species but also for other birds of prey. The partnership and support of local farmers through consultation and training has a key effect on the overall work. To foster conservation and management of low mountain pastures Green Balkans and EuroNatur recently launched a project to implement the concept of the so-called transhumance in Sakar, a practice that is well known in Bulgaria.
Transhumance is based on moving domestic animals within alternating grasslands from high mountains in the summer to low areas in winter. It reduces the pressure on pastures near settlements and territories with un-natural infrastructure, while ensuring optimal grazing for animals during different seasons of the year. On the ground, ambitious conservationists will build shelter facilities and enclosures for the animals in the high mountain rages (700 - 800 m above sea level). They will also restore desolate watering places and establish fire-fighting voluntary farmer brigades to keep down fires in pasture habitats in the summer.