Welcome to the Week of Neighbours to celebrate culture, history and future of the Bohemian (Czech) and Bavarian (German) neighbourhood along the European Green Belt!
The meaning of neighbourhoods has been changing ever since. Nowadays most of us only greet our neighbours, while in past days we relied on each other. Borders often separate neighbours and sometimes even their cultures. But the European Green Belt has – despite his hostile past – become a place to reconnect with nature and people from "the other side".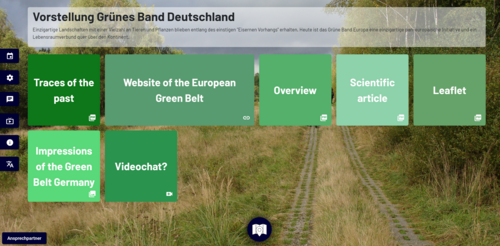 Especially in slighted villages neighbourhoods have been lost from one day to the next. People did not know they would leave their homes for decades to come. Nowadays artists, historians and nature conservationists are heading back to these places. Where they find inspiration and some "treasures" of the past. Traces of those lost places are still visible even though nature has mostly overtaken.
But what always survived the separation is the interconnected culture and sociability of people around. Along the European Green Belt, neighbours experience a connection to others that have been separated the same way. To be connected by a green, natural lifeline from the North to the South of Europe encourages solidarity.
Each year, the trans-boundary and bi-lingual cultural centre Centrum Bavaria Bohemia (CeBB) organizes the week of neighbours to share cultural experiences of the 6 neighbourhood regions along the border. This year the festival took place from 12th-15th May 2021 and had to move to a digital platform. Lots of cultural activities like concerts, galleries and theatres were presented online. All six destinations were present with exhibitions, talks and information pavillons.
The BUND Department Green Belt has been there as well. We took part by setting up a virtual Green Belt information pavillon and being in video calls for further questions.
But the most memorable and interesting video on the European Green Belt was not uploaded by us. It was contributed by the Centrum Bavaria Bohemia & OTH Amberg-Weiden (Tim Wolfsegger, Jonas Winkel, Daniel Greim) and we wish all of you a lot of fun while watching: https://www.youtube.com/watch?v=Db6v_Jgo0sA
Contact details: BUND Department Green Belt, grünes-band(at)bund-naturschutz.de