When political will gets important in the Italian-Slovenian border region
On 25th of November 2019, the vice chair organisation of the European Green Belt Association, Rete Italiana, together with the autonomous region Friuli Venezia Giulia (Italian National Focal Point) invited institutions to strengthen the collaboration among local stakeholders being active in the Italian-Slovenian section of the European Green Belt. Actors are ready to make a step forward.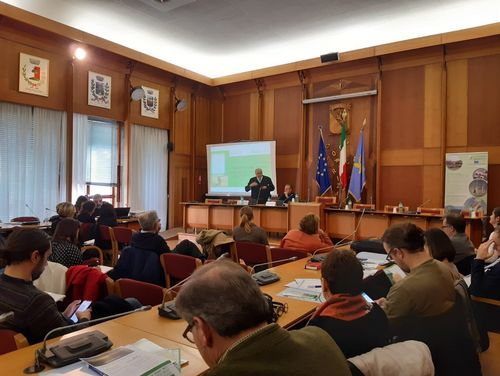 The event was opened by Fabio Scoccimarro, Regional Councillor for Environmental Protection, Energy and Sustainable Development, and Rodolfo Ziberna, Mayor of Gorizia. Institutional stakeholders presented policies and projects that are already carried out on the ground. These projects are consistent with the Eisenach Resolution to protect the European Green Belt as an outstanding ecological and memorial landscape.
The topic of transboundary cooperation was demonstrated by conservationists from the neighbouring country Slovenia: Stanka Desnik, the Slovenian National Focal Point, from the Goričko Nature Park, together with representatives of the Nature Park Strunjan in Slovenia presented their perspectives on the future development of the European Green Belt. Also, representatives of Triglav National Park (Slovenia) and the Julian Prealps Park (Italy) actively exchanged their knowledge and experiences regarding the management of a transboundary protected area.
The event showed that when it comes to a sustainable development of such outstanding ecological, memorial and cultural landscape, political will is necessary: The management authority of an EU-funded Interreg-project in the border region of Italy and Slovenia emphasised the value of the European Green Belt and declared interest to invest in the European Green Belt in the next programme period with focus on Green Infrastructure.
With this positive outcome comes the positive attitude of many participants to protect the European Green Belt on the local and regional scale: Speakers from Local Action Groups, the European Group of Territorial Cooperation (EGTC), and representatives of the Gorizia Bank Foundation and two cross-border municipalities (Cormons and Brda), a cross-border association of municipalities as well as the Regional Agency for Tourism underlined their interests to collaborate.